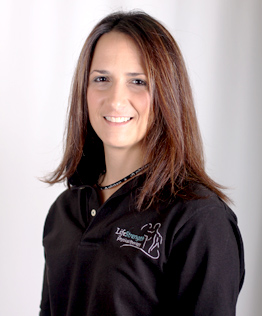 Lisa Grieco
Our team is led by Lisa Grieco, PT, DPT, OCS, CSCS
"Dr. Lisa" has been a professional physical therapist since 1997. A student and master of the art and science of healing, she maximizes positive results through a holistic wellness approach — understanding the patient's mindset and listening to everything the patient's body says.
Known among patients for her "golden hands," Dr. Lisa's consummate understanding of musculoskeletal dysfunction combines 15 years of perceptive, hands-on practice with a decade of academia. She holds bachelor's degrees in health science (Touro College) and graphic arts (Adelphi University), as well as a master's degree and doctorate in physical therapy (Touro).
An Orthopedic Certified Specialist, Dr. Lisa earned Strength and Conditioning Specialist certification from the National Strength and Conditioning Association; Clinical Instructor certification from the American Physical Therapy Association; Personal Trainer certification from the International Weightlifting Association; and Aquatic Program Instructor certification from the Arthritis Foundation.